The wine cellar with accommodation is situated in South Moravia in the Moravian Slovakia region, in the picturesque village of Syrovín, in the valley at the foot of Chřiby. Wine cultivation dates back to the early 17th century.
At present, the most varieties of Riesling and Pinot Blanc are grown here.
The architectonically most significant building in the village is the Church of the Conversion of St. Pavel, which was built in 1716 in early Baroque style. The church is included in the Central List of Cultural Monuments. The church is situated on the hill overlooking the surrounding landscape.
The parish, which was built around 1750, stands on the immediate vicinity of the church.
The Bzenec wine cycling trail is passing through the village.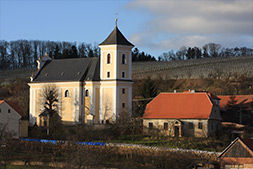 A village in South Moravia
Syrovín is a village in the basin, lying on the streams of the brook Syrovínka. The first mention of the village dates back to 1371 (according to the old Codex Diplomaticus Moraviae). The name of the village is derived from the personal name of Surova, it means raw. The oldest form of the name is Surowin. more »